Cross-number chaos — Happy Triangular Year!
If you find mathematics offensive, please click the back button now.
Mathematical Maelström is a rather tricky cross-number puzzle, in which the clues take the form of equations.
• "Across" and "Down" are not specified as each letter only corresponds to one answer.
• No number begins with zero.
• A calculator could come in handy!
Below is the latest Mathematical Maelström puzzle to celebrate 2016, a triangular year! The first person to solve the puzzle correctly wins a trip for two to Bermuda (only kidding). If you'd like to print it out (which you probably will), please click here.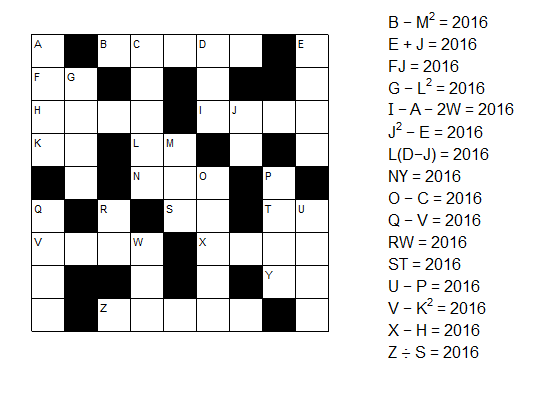 If you think you've done it, or you've come to grief in the Bermuda Triangle, here is the solution.
More Maelström madness (printable PDF format):
2015 New Year special
2014 New Year special
2013 New Year special
"Crazy Cubes": 16 December 2012
2012 New Year special
Eleven special: 11 November 2011
12 January 2011
2011 New Year special
9 August 2010
2010 New Year special
27 December 2009
N-n-n-n-nineteen — 26 October 2009
"Don't Think Outside the Square II" — 2 Aug 2009
10 January 2009
2009 New Year special
8 December 2008
30 November 2008
24 May 2008
"Descriptive" edition — 17 May 2008
19 April 2008
28 March 2008
11 March 2008
6 March 2008
"Don't Think Outside the Square" — 20 Feb 2008
31 January 2008
26 January 2008
26 January 2008
2008 New Year special
8 December 2007
8 December 2007